Hello ladies. So far there are 5 people who are doing this challenge with us. Spread the word, so that others may want to join in with us! I've created a button (or badge) on the left sidebar if you want to snag it.
Well, let me start by telling you a little about myself - even though it's all over this blog :)
I am 29 years old (as of today actually). I'm a mother of two. My son is 3 years old, and my daughter is 17 months old. I have a Bachelors in Nursing and a Masters in Elementary Education, but I have chosen to stay at home with my kids - kind of! I actually work part time from my home while my kiddos are napping.
I've struggled with my weight my whole life. I tried not to "worry" to much about it when I was pregnant, but it wasn't until I saw myself in a photo last summer while on a family vacation that I knew I had to get my body back. I was told by Doctors to not have anymore children, so I knew that it was time to conquer myself back!
In June I started doing
Jillian

Michaels

Making the Cut
. It says that it's a "30-Day" fitness plan, but I actually did it for 8 months straight! Yep, I liked it that much. I did it all from my home, up until January when I started going to the Y. I have lost 23 lbs. (The last 2 lbs are being stubborn little boogers!) I started at 155 lbs and I'm currently 132 lbs. * My measurements are a few posts back if you care to take a look!
I'm not competing against you in the Challenge, I'm merely here to coach you in having a healthier and more fit life style - all while having fun blogging about it! I'm actually a VERY competitive person. There is only one other worse than me and I'm married to him!
My three temptations: Hum... How in the world can I only pick three??? I'm going to have to say Flavored Coffee creamer - I can't drink it without it, CHOCOLATE (honestly semi-sweet chocolate chips are my favorite), and Cookie dough (or brownie batter)! As you can tell I'm big on the sweets!
Here was my workout for the week:
Monday
: 1 hour
Zumba
Interval Class at the Y
Tuesday
: Weight lifted on my arms (for the arm exercise post), ran around the neighborhood twice pushing my kids in a stroller.
Wednesday
: 1 hour Spin Class, evening yoga
Thursday
: 1 hour Spin Class
Friday
: Bob Harper Weight Loss yoga video
I'm keeping my fingers crossed for a healthier weekend than last weekend... but it's going to be hard with my birthday and Valentine's Day. I have a husband who plans a great birthday bash, which usually involves good food!
So how did you all do??? Leave me a comment, and then check out the other ladies on the
Gettin
' Fine in '09 Roll Call. (Left Sidebar).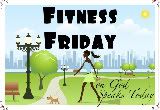 If you all are having a hard time getting motivated go check out
Sandy
at
God

Speak's

Today
. Actually, I recommend taking at look at her Fitness Friday every week (Her button's in my sidebar). She's an amazing writer who I was introduced to recently. I love how
spiritual
, inspiring, informative, and honest she is.
Every time
I read her post, I'm saying, "Yes, Yes, exactly". It's as if she takes the words right out of my mouth... of course she words them a whole lot better. I'm obviously not doing her enough justice, so go take a look for yourself!
I look forward to hearing from all of you!